About Us
Jade Garden is a Chinese takeaway in Keighley. Why don't you try our Stir Fried in Plum Sauce or Crispy Noodle?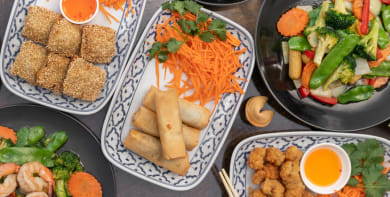 Reviews
155 reviews
Lisa
"Big portions, piping hot and tasty."
26/07/2020
Corinne
"received a message notifying us of a delay which was fine. Food lovely and fresh would order from them again."
23/07/2020
Tracy
"Beautiful food"
08/07/2020
Stephen
"Expensive,"
03/07/2020
Menu
Barbecued Spare Ribs A) Peking Style
£5.80
Barbecued Spare Ribs B) Salt & Pepper (H)
£5.80
Barbecued Spare Ribs C) Syrup
£5.80
Barbecued Spare Ribs D) O.K. Sauce
£5.80
Barbecued Spare Ribs E) Sweet & Sour Sauce
£5.80
Barbecued Spare Ribs F) Thai Sauce (H)
£5.80
Barbecued Spare Ribs G) Cantonese Sauce
£5.80
Barbecued Spare Ribs H) Gravy
£5.80
Barbecued Spare Ribs I) BBQ Sauce
£5.80
Barbecued Spare Ribs J) Dry
£5.50
Chicken Satay on Skewers (4)
With cucumber & spicy sweet satay sauce
£4.70
Chicken Wings A) Peking Style
£5.00
Chicken Wings B) Salt & Pepper (H)
£5.30
Chicken Wings D) O.K. Sauce
£5.00
Chicken Wings E) Sweet & Sour Sauce
£5.00
Chicken Wings F) Thai Sauce (H)
£5.00
Chicken Balls in Batter (6)
£4.40
Crispy Aromatic Duck Half
Served with pancakes, spring onions, cucumber & Hoisin sauce
£18.00
Crispy Aromatic Duck Quarter
Served with pancakes, spring onions, cucumber & Hoisin sauce
£9.50
Crispy Chicken Samosa (5)
Served with Thai sauce
£3.90
Crispy Curry Samosa (5)
Served with Thai sauce
£3.90
Deep Fried Chicken with Breadcrumbs
Served with Thai sauce
£5.00
Deep Fried Crab Claws (4)
Served with Thai sauce
£3.80
Deep Fried King Prawn with Breadcrumbs
Served with Thai sauce
£5.30
Popia Tod (10)
Thai spring rolls. Served with Thai sauce
£3.70
King Prawn Balls in Batter (6)
£4.60
Sesame Prawn on Toast
Served with Thai sauce
£4.40
Special Mixed Starters for Two
Served with sweet & sour sauce - prawn toast, spare ribs, chicken wings, vegetarian spring roll, wonton & crispy seaweed
£8.30
Vegetarian Spring Rolls (10)
Served with Thai sauce
£3.10
Red Curry Bean Curd (V)
Thai style, stir fried with hot Thai curry, onion, green pepper, coconut cream & pineapple
£5.90
Red Curry Beef
Thai style, stir fried with hot Thai curry, onion, green pepper, coconut cream & pineapple
£6.40
Red Curry Char Siu
Thai style, stir fried with hot Thai curry, onion, green pepper, coconut cream & pineapple
£6.40
Red Curry Chicken
Thai style, stir fried with hot Thai curry, onion, green pepper, coconut cream & pineapple
£6.40
Red Curry Duck
Thai style, stir fried with hot Thai curry, onion, green pepper, coconut cream & pineapple
£6.80
Red Curry King Prawn
Thai style, stir fried with hot Thai curry, onion, green pepper, coconut cream & pineapple
£6.60
Red Curry Mixed Vegetables (V)
Thai style, stir fried with hot Thai curry, onion, green pepper, coconut cream & pineapple
£5.80
Red Curry Mushroom (V)
Thai style, stir fried with hot Thai curry, onion, green pepper, coconut cream & pineapple
£5.80
Red Curry Shrimp
Thai style, stir fried with hot Thai curry, onion, green pepper, coconut cream & pineapple
£6.40
Red Curry Special
Thai style, stir fried with hot Thai curry, onion, green pepper, coconut cream & pineapple
£6.60
Green Curry Beef
Thai style, stir fried with onion, green pepper, pineapple, coconut cream & green Thai curry
£6.40
Green Curry Char Siu
Thai style, stir fried with onion, green pepper, pineapple, coconut cream & green Thai curry
£6.40
Green Curry Chicken
Thai style, stir fried with onion, green pepper, pineapple, coconut cream & green Thai curry
£6.40
Green Curry King Prawn
Thai style, stir fried with onion, green pepper, pineapple, coconut cream & green Thai curry
£6.60
Green Curry Mushroom (V)
Thai style, stir fried with onion, green pepper, pineapple, coconut cream & green Thai curry
£5.80
Green Curry Special
Thai style, stir fried with onion, green pepper, pineapple, coconut cream & green Thai curry
£6.60
Green Curry Squid
Thai style, stir fried with onion, green pepper, pineapple, coconut cream & green Thai curry
£6.70
Cashew Nut Bean Curd (V)
Stir fried with carrots, onion, garlic, bamboo shoots, baby corn, spring onion & cashew nuts
£5.90
Cashew Nut Beef
Stir fried with carrots, onion, garlic, bamboo shoots, baby corn, spring onion & cashew nuts
£6.30
Cashew Nut Char Siu
Stir fried with carrots, onion, garlic, bamboo shoots, baby corn, spring onion & cashew nuts
£6.30
Cashew Nut Chicken
Stir fried with carrots, onion, garlic, bamboo shoots, baby corn, spring onion & cashew nuts
£6.30
Cashew Nut Duck
Stir fried with carrots, onion, garlic, bamboo shoots, baby corn, spring onion & cashew nuts
£6.80
Cashew Nut King Prawn
Stir fried with carrots, onion, garlic, bamboo shoots, baby corn, spring onion & cashew nuts
£6.50
Cashew Nut Mixed Vegetables (V)
Stir fried with carrots, onion, garlic, bamboo shoots, baby corn, spring onion & cashew nuts
£5.80
Cashew Nut Shrimp
Stir fried with carrots, onion, garlic, bamboo shoots, baby corn, spring onion & cashew nuts
£6.30
Cashew Nut Special
Stir fried with carrots, onion, garlic, bamboo shoots, baby corn, spring onion & cashew nuts
£6.50
Cashew Nut Squid
Stir fried with carrots, onion, garlic, bamboo shoots, baby corn, spring onion & cashew nuts
£6.70
Thai Cashew Nut Beef
Stir fried cashew nuts, garlic, onion, carrots, bamboo shoots, water chestnuts, green pepper & soy sauce
£6.30
Thai Cashew Nut Char Siu
Stir fried cashew nuts, garlic, onion, carrots, bamboo shoots, water chestnuts, green pepper & soy sauce
£6.30
Thai Cashew Nut Chicken
Stir fried cashew nuts, garlic, onion, carrots, bamboo shoots, water chestnuts, green pepper & soy sauce
£6.30
Thai Cashew Nut Duck
Stir fried cashew nuts, garlic, onion, carrots, bamboo shoots, water chestnuts, green pepper & soy sauce
£6.80
Thai Cashew Nut King Prawn
Stir fried cashew nuts, garlic, onion, carrots, bamboo shoots, water chestnuts, green pepper & soy sauce
£6.50
Thai Cashew Nut Mixed Vegetables (V)
Stir fried cashew nuts, garlic, onion, carrots, bamboo shoots, water chestnuts, green pepper & soy sauce
£5.80
Thai Cashew Nut Shrimp
Stir fried cashew nuts, garlic, onion, carrots, bamboo shoots, water chestnuts, green pepper & soy sauce
£6.30
Thai Cashew Nut Special
Stir fried cashew nuts, garlic, onion, carrots, bamboo shoots, water chestnuts, green pepper & soy sauce
£6.50
Thai Cashew Nut Squid
Stir fried cashew nuts, garlic, onion, carrots, bamboo shoots, water chestnuts, green pepper & soy sauce
£6.70
Chinese Mushrooms Char Siu
£6.30
Chinese Mushrooms Chicken
£6.30
Chinese Mushrooms King Prawn
£6.50
Chinese Mushrooms Scallops
£7.00
Chinese Mushrooms Special
£6.50
Black Pepper Bean Curd (V)
Stir fried with onion, carrots, bamboo shoots, green pepper, garlic, straw mushrooms & black pepper
£5.90
Black Pepper Beef
Stir fried with onion, carrots, bamboo shoots, green pepper, garlic, straw mushrooms & black pepper
£6.30
Black Pepper Char Siu
Stir fried with onion, carrots, bamboo shoots, green pepper, garlic, straw mushrooms & black pepper
£6.30
Black Pepper Chicken
Stir fried with onion, carrots, bamboo shoots, green pepper, garlic, straw mushrooms & black pepper
£6.30
Black Pepper Duck
Stir fried with onion, carrots, bamboo shoots, green pepper, garlic, straw mushrooms & black pepper
£6.80
Black Pepper King Prawn
Stir fried with onion, carrots, bamboo shoots, green pepper, garlic, straw mushrooms & black pepper
£6.50
Black Pepper Special
Stir fried with onion, carrots, bamboo shoots, green pepper, garlic, straw mushrooms & black pepper
£6.50
Crispy Noodle Beef
Deep fried egg noodles with garlic, carrots, spring onions, bamboo shoots, straw mushrooms, Chinese leaves & oyster sauce
£6.20
Crispy Noodle Char Siu
Deep fried egg noodles with garlic, carrots, spring onions, bamboo shoots, straw mushrooms, Chinese leaves & oyster sauce
£6.20
Crispy Noodle Chicken
Deep fried egg noodles with garlic, carrots, spring onions, bamboo shoots, straw mushrooms, Chinese leaves & oyster sauce
£6.20
Crispy Noodle Duck
Deep fried egg noodles with garlic, carrots, spring onions, bamboo shoots, straw mushrooms, Chinese leaves & oyster sauce
£6.70
Crispy Noodle King Prawn
Deep fried egg noodles with garlic, carrots, spring onions, bamboo shoots, straw mushrooms, Chinese leaves & oyster sauce
£6.50
Crispy Noodle Mixed Vegetables
Deep fried egg noodles with garlic, carrots, spring onions, bamboo shoots, straw mushrooms, Chinese leaves & oyster sauce
£5.80
Crispy Noodle Seafood
Deep fried egg noodles with garlic, carrots, spring onions, bamboo shoots, straw mushrooms, Chinese leaves & oyster sauce
£6.70
Crispy Noodle Special
Deep fried egg noodles with garlic, carrots, spring onions, bamboo shoots, straw mushrooms, Chinese leaves & oyster sauce
£6.50
Deep Fried Kung Po Bean Curd (V)
Deep fried with cashew nuts, garlic, onion, carrots, bamboo shoots, water chestnuts, green pepper & spicy kung po sauce
£5.90
Deep Fried Kung Po Beef
Deep fried with cashew nuts, garlic, onion, carrots, bamboo shoots, water chestnuts, green pepper & spicy kung po sauce
£6.30
Deep Fried Kung Po Char Siu
Deep fried with cashew nuts, garlic, onion, carrots, bamboo shoots, water chestnuts, green pepper & spicy kung po sauce
£6.30
Deep Fried Kung Po Chicken
Deep fried with cashew nuts, garlic, onion, carrots, bamboo shoots, water chestnuts, green pepper & spicy kung po sauce
£6.30
Deep Fried Kung Po Duck
Deep fried with cashew nuts, garlic, onion, carrots, bamboo shoots, water chestnuts, green pepper & spicy kung po sauce
£6.80
Deep Fried Kung Po King Prawn
Deep fried with cashew nuts, garlic, onion, carrots, bamboo shoots, water chestnuts, green pepper & spicy kung po sauce
£6.50
Deep Fried Kung Po Scallops
Deep fried with cashew nuts, garlic, onion, carrots, bamboo shoots, water chestnuts, green pepper & spicy kung po sauce
£7.00
Deep Fried Kung Po Special
Deep fried with cashew nuts, garlic, onion, carrots, bamboo shoots, water chestnuts, green pepper & spicy kung po sauce
£6.50
Deep Fried Kung Po Squid
Deep fried with cashew nuts, garlic, onion, carrots, bamboo shoots, water chestnuts, green pepper & spicy kung po sauce
£6.70
Stir Fried Kung Po Bean Curd (V)
Stir fried with cashew nuts, garlic, onion, carrots, bamboo shoots, water chestnuts, green pepper & spicy kung po sauce
£5.90
Stir Fried Kung Po Beef
Stir fried with cashew nuts, garlic, onion, carrots, bamboo shoots, water chestnuts, green pepper & spicy kung po sauce
£6.30
Stir Fried Kung Po Char Siu
Stir fried with cashew nuts, garlic, onion, carrots, bamboo shoots, water chestnuts, green pepper & spicy kung po sauce
£6.30
Stir Fried Kung Po Chicken
Stir fried with cashew nuts, garlic, onion, carrots, bamboo shoots, water chestnuts, green pepper & spicy kung po sauce
£6.30
Stir Fried Kung Po Duck
Stir fried with cashew nuts, garlic, onion, carrots, bamboo shoots, water chestnuts, green pepper & spicy kung po sauce
£6.80
Stir Fried Kung Po King Prawn
Stir fried with cashew nuts, garlic, onion, carrots, bamboo shoots, water chestnuts, green pepper & spicy kung po sauce
£6.50
Stir Fried Kung Po Scallops
Stir fried with cashew nuts, garlic, onion, carrots, bamboo shoots, water chestnuts, green pepper & spicy kung po sauce
£7.00
Stir Fried Kung Po Special
Stir fried with cashew nuts, garlic, onion, carrots, bamboo shoots, water chestnuts, green pepper & spicy kung po sauce
£6.50
Stir Fried Kung Po Squid
Stir fried with cashew nuts, garlic, onion, carrots, bamboo shoots, water chestnuts, green pepper & spicy kung po sauce
£6.70
Stir Fried in Plum Sauce Bean Curd (V)
Stir fried with onion, carrots, green pepper, pineapple & plum sauce
£5.90
Stir Fried in Plum Sauce Beef
Stir fried with onion, carrots, green pepper, pineapple & plum sauce
£6.30
Stir Fried in Plum Sauce Char Siu
Stir fried with onion, carrots, green pepper, pineapple & plum sauce
£6.30
Stir Fried in Plum Sauce Chicken
Stir fried with onion, carrots, green pepper, pineapple & plum sauce
£6.30
Stir Fried in Plum Sauce King Prawn
Stir fried with onion, carrots, green pepper, pineapple & plum sauce
£6.50
Stir Fried in Plum Sauce Special
Stir fried with onion, carrots, green pepper, pineapple & plum sauce
£6.50
Stir Fried in Plum Sauce Squid
Stir fried with onion, carrots, green pepper, pineapple & plum sauce
£6.70
Deep Fried in Plum Sauce Bean Curd (V)
Deep fried with onion, carrots, green pepper, pineapple & plum sauce
£5.90
Deep Fried in Plum Sauce Beef
Deep fried with onion, carrots, green pepper, pineapple & plum sauce
£6.30
Deep Fried in Plum Sauce Char Siu
Deep fried with onion, carrots, green pepper, pineapple & plum sauce
£6.30
Deep Fried in Plum Sauce Chicken
Deep fried with onion, carrots, green pepper, pineapple & plum sauce
£6.30
Deep Fried in Plum Sauce King Prawn
Deep fried with onion, carrots, green pepper, pineapple & plum sauce
£6.50
Deep Fried in Plum Sauce Special
Deep fried with onion, carrots, green pepper, pineapple & plum sauce
£6.50
Deep Fried in Plum Sauce Squid
Deep fried with onion, carrots, green pepper, pineapple & plum sauce
£6.70
Deep Fried Cantonese Style Bean Curd (V)
Deep fried with onion & fruity sauce
£5.90
Deep Fried Cantonese Style Beef
Deep fried with onion & fruity sauce
£6.30
Deep Fried Cantonese Style Char Siu
Deep fried with onion & fruity sauce
£6.30
Deep Fried Cantonese Style Chicken
Deep fried with onion & fruity sauce
£6.30
Deep Fried Cantonese Style Duck
Deep fried with onion & fruity sauce
£6.80
Deep Fried Cantonese Style King Prawn
Deep fried with onion & fruity sauce
£6.50
Deep Fried Cantonese Style Mixed Vegetables (V)
Deep fried with onion & fruity sauce
£5.80
Deep Fried Cantonese Style Shrimp
Deep fried with onion & fruity sauce
£6.30
Deep Fried Cantonese Style Special
Deep fried with onion & fruity sauce
£6.50
Stir Fried Cantonese Style Bean Curd (V)
Stir fried with onion & fruity sauce
£5.90
Stir Fried Cantonese Style Beef
Stir fried with onion & fruity sauce
£6.30
Stir Fried Cantonese Style Char Siu
Stir fried with onion & fruity sauce
£6.30
Stir Fried Cantonese Style Chicken
Stir fried with onion & fruity sauce
£6.30
Stir Fried Cantonese Style Duck
Stir fried with onion & fruity sauce
£6.80
Stir Fried Cantonese Style King Prawn
Stir fried with onion & fruity sauce
£6.50
Stir Fried Cantonese Style Mixed Vegetables (V)
Stir fried with onion & fruity sauce
£5.80
Stir Fried Cantonese Style Shrimp
Stir fried with onion & fruity sauce
£6.30
Stir Fried Cantonese Style Special
Stir fried with onion & fruity sauce
£6.50
Crispy Shredded Chilli Beef
£6.40
Crispy Shredded Chilli Chicken
£6.40
Deep Fried Chicken with Lemon Sauce
£6.40
Deep Fried Chicken with Orange Sauce
£6.40
King Prawns Chinese Style
£6.40
Roast Duck with Orange Sauce
£7.10
Roast Duck with Plum Sauce
£6.80
Pak Po Chicken
King prawn, char siu & vegetables
£6.90
Pak Po Duck
King prawn, char siu & vegetables
£7.40
Bamboo Shoot & Water Chestnut Beef
£6.30
Bamboo Shoot & Water Chestnut Char Siu
£6.30
Bamboo Shoot & Water Chestnut Chicken
£6.30
Bamboo Shoot & Water Chestnut King Prawn
£6.50
Bamboo Shoot & Water Chestnut Shrimp
£6.30
Bamboo Shoot & Water Chestnut Special
£6.50
Deep Fried Crispy Salt & Chilli Pepper Beef
£6.30
Deep Fried Crispy Salt & Chilli Pepper Chicken
£6.30
Deep Fried Crispy Salt &Chilli Pepper King Prawn
£6.50
Deep Fried Crispy Spicy & Chilli Pepper Pork
£6.30
Deep Fried Crispy Spicy Salt & Pepper Squid
£6.90
Szechuan Deep Fried Bean Curd (V)
Deep fried with chilli, onion, carrots, bamboo shoots, water chestnuts, green pepper, baby corn & Szechuan spicy sauce
£5.90
Szechuan Deep Fried Beef
Deep fried with chilli, onion, carrots, bamboo shoots, water chestnuts, green pepper, baby corn & Szechuan spicy sauce
£6.30
Szechuan Deep Fried Char Siu
Deep fried with chilli, onion, carrots, bamboo shoots, water chestnuts, green pepper, baby corn & Szechuan spicy sauce
£6.30
Szechuan Deep Fried Chicken
Deep fried with chilli, onion, carrots, bamboo shoots, water chestnuts, green pepper, baby corn & Szechuan spicy sauce
£6.30
Szechuan Deep Fried Duck
Deep fried with chilli, onion, carrots, bamboo shoots, water chestnuts, green pepper, baby corn & Szechuan spicy sauce
£6.80
Szechuan Deep Fried King Prawn
Deep fried with chilli, onion, carrots, bamboo shoots, water chestnuts, green pepper, baby corn & Szechuan spicy sauce
£6.50
Szechuan Deep Fried Scallops
Deep fried with chilli, onion, carrots, bamboo shoots, water chestnuts, green pepper, baby corn & Szechuan spicy sauce
£7.00
Szechuan Deep Fried Special
Deep fried with chilli, onion, carrots, bamboo shoots, water chestnuts, green pepper, baby corn & Szechuan spicy sauce
£6.50
Szechuan Deep Fried Squid
Deep fried with chilli, onion, carrots, bamboo shoots, water chestnuts, green pepper, baby corn & Szechuan spicy sauce
£6.70
Szechuan Stir Fried Bean Curd (V)
Stir fried with chilli, onion, carrots, bamboo shoots, water chestnuts, green pepper, baby corn & Szechuan spicy sauce
£5.90
Szechuan Stir Fried Beef
Stir fried with chilli, onion, carrots, bamboo shoots, water chestnuts, green pepper, baby corn & Szechuan spicy sauce
£6.30
Szechuan Stir Fried Char Siu
Stir fried with chilli, onion, carrots, bamboo shoots, water chestnuts, green pepper, baby corn & Szechuan spicy sauce
£6.30
Szechuan Stir Fried Chicken
Stir fried with chilli, onion, carrots, bamboo shoots, water chestnuts, green pepper, baby corn & Szechuan spicy sauce
£6.30
Szechuan Stir Fried Duck
Stir fried with chilli, onion, carrots, bamboo shoots, water chestnuts, green pepper, baby corn & Szechuan spicy sauce
£6.80
Szechuan Stir Fried King Prawn
Stir fried with chilli, onion, carrots, bamboo shoots, water chestnuts, green pepper, baby corn & Szechuan spicy sauce
£6.50
Szechuan Stir Fried Scallops
Stir fried with chilli, onion, carrots, bamboo shoots, water chestnuts, green pepper, baby corn & Szechuan spicy sauce
£7.00
Szechuan Stir Fried Special
Stir fried with chilli, onion, carrots, bamboo shoots, water chestnuts, green pepper, baby corn & Szechuan spicy sauce
£6.50
Szechuan Stir Fried Squid
Stir fried with chilli, onion, carrots, bamboo shoots, water chestnuts, green pepper, baby corn & Szechuan spicy sauce
£6.70
Deep Fried in Batter Ball Chicken
Please required any sauce
£6.30
Deep Fried in Batter Ball King Prawn
Please required any sauce
£6.50
Deep Fried in Batter Ball Mixed
Please required any sauce
£6.50
Deep Fried in Batter Ball Pork
Please required any sauce
£6.30
Black Bean Sauce Beef
Stir fried with garlic, onion, carrots, chilli, bamboo shoots, green pepper & black bean sauce
£6.30
Black Bean Sauce Char Siu
Stir fried with garlic, onion, carrots, chilli, bamboo shoots, green pepper & black bean sauce
£6.30
Black Bean Sauce Chicken
Stir fried with garlic, onion, carrots, chilli, bamboo shoots, green pepper & black bean sauce
£6.30
Black Bean Sauce Duck
Stir fried with garlic, onion, carrots, chilli, bamboo shoots, green pepper & black bean sauce
£6.80
Black Bean Sauce King Prawn
Stir fried with garlic, onion, carrots, chilli, bamboo shoots, green pepper & black bean sauce
£6.50
Black Bean Sauce Mixed Vegetables (V)
Stir fried with garlic, onion, carrots, chilli, bamboo shoots, green pepper & black bean sauce
£5.80
Black Bean Sauce Scallops
Stir fried with garlic, onion, carrots, chilli, bamboo shoots, green pepper & black bean sauce
£7.00
Black Bean Sauce Special
Stir fried with garlic, onion, carrots, chilli, bamboo shoots, green pepper & black bean sauce
£6.50
Black Bean Sauce Squid
Stir fried with garlic, onion, carrots, chilli, bamboo shoots, green pepper & black bean sauce
£6.70
Hoisin Sauce Bean Curd (V)
Stir fried with cashew nuts, garlic, onion, carrots, bamboo shoots, water chestnuts & spring onion
£5.90
Hoisin Sauce Beef
Stir fried with cashew nuts, garlic, onion, carrots, bamboo shoots, water chestnuts & spring onion
£6.30
Hoisin Sauce Char Siu
Stir fried with cashew nuts, garlic, onion, carrots, bamboo shoots, water chestnuts & spring onion
£6.30
Hoisin Sauce Chicken
Stir fried with cashew nuts, garlic, onion, carrots, bamboo shoots, water chestnuts & spring onion
£6.30
Hoisin Sauce King Prawn
Stir fried with cashew nuts, garlic, onion, carrots, bamboo shoots, water chestnuts & spring onion
£6.50
Hoisin Sauce Mixed Vegetables (V)
Stir fried with cashew nuts, garlic, onion, carrots, bamboo shoots, water chestnuts & spring onion
£5.80
Hoisin Sauce Special
Stir fried with cashew nuts, garlic, onion, carrots, bamboo shoots, water chestnuts & spring onion
£6.50
Deep Fried Honey Spicy Bean Curd (V)
Thai style, deep fried with onion, carrots, bamboo shoots, green pepper, baby corn & honey spicy sauce
£5.90
Deep Fried Honey Spicy Beef
Thai style, deep fried with onion, carrots, bamboo shoots, green pepper, baby corn & honey spicy sauce
£6.40
Deep Fried Honey Spicy Char Siu
Thai style, deep fried with onion, carrots, bamboo shoots, green pepper, baby corn & honey spicy sauce
£6.40
Deep Fried Honey Spicy Chicken
Thai style, deep fried with onion, carrots, bamboo shoots, green pepper, baby corn & honey spicy sauce
£6.40
Deep Fried Honey Spicy King Prawn
Thai style, deep fried with onion, carrots, bamboo shoots, green pepper, baby corn & honey spicy sauce
£6.60
Deep Fried Honey Spicy Mixed Vegetables (V)
Thai style, deep fried with onion, carrots, bamboo shoots, green pepper, baby corn & honey spicy sauce
£5.80
Deep Fried Honey Spicy Scallops
Thai style, deep fried with onion, carrots, bamboo shoots, green pepper, baby corn & honey spicy sauce
£7.10
Deep Fried Honey Spicy Special
Thai style, deep fried with onion, carrots, bamboo shoots, green pepper, baby corn & honey spicy sauce
£6.60
Deep Fried Honey Spicy Squid
Thai style, deep fried with onion, carrots, bamboo shoots, green pepper, baby corn & honey spicy sauce
£6.70
Stir Fried Honey Spicy Bean Curd (V)
Thai style, stir fried with onion, carrots, bamboo shoots, green pepper, baby corn & honey spicy sauce
£5.90
Stir Fried Honey Spicy Beef
Thai style, stir fried with onion, carrots, bamboo shoots, green pepper, baby corn & honey spicy sauce
£6.40
Stir Fried Honey Spicy Char Siu
Thai style, stir fried with onion, carrots, bamboo shoots, green pepper, baby corn & honey spicy sauce
£6.40
Stir Fried Honey Spicy Chicken
Thai style, stir fried with onion, carrots, bamboo shoots, green pepper, baby corn & honey spicy sauce
£6.40
Stir Fried Honey Spicy King Prawn
Thai style, stir fried with onion, carrots, bamboo shoots, green pepper, baby corn & honey spicy sauce
£6.60
Stir Fried Honey Spicy Mixed Vegetables (V)
Thai style, stir fried with onion, carrots, bamboo shoots, green pepper, baby corn & honey spicy sauce
£5.80
Stir Fried Honey Spicy Scallops
Thai style, stir fried with onion, carrots, bamboo shoots, green pepper, baby corn & honey spicy sauce
£7.10
Stir Fried Honey Spicy Special
Thai style, stir fried with onion, carrots, bamboo shoots, green pepper, baby corn & honey spicy sauce
£6.60
Stir Fried Honey Spicy Squid
Thai style, stir fried with onion, carrots, bamboo shoots, green pepper, baby corn & honey spicy sauce
£6.70
Rice Noodle Beef
Stir fried with egg, onion, spring onion, carrots & bean sprouts.
Pad Thai is Thai style stir fried dish with king prawns, chicken, Char Siu & tomato sauce
£5.80
Rice Noodle Char Siu
Stir fried with egg, onion, spring onion, carrots & bean sprouts.
Pad Thai is Thai style stir fried dish with king prawns, chicken, Char Siu & tomato sauce
£5.80
Rice Noodle Chicken
Stir fried with egg, onion, spring onion, carrots & bean sprouts.
Pad Thai is Thai style stir fried dish with king prawns, chicken, Char Siu & tomato sauce
£5.80
Rice Noodle Duck
Stir fried with egg, onion, spring onion, carrots & bean sprouts.
Pad Thai is Thai style stir fried dish with king prawns, chicken, Char Siu & tomato sauce
£6.60
Rice Noodle King Prawn
Stir fried with egg, onion, spring onion, carrots & bean sprouts.
Pad Thai is Thai style stir fried dish with king prawns, chicken, Char Siu & tomato sauce
£6.30
Rice Noodle Mixed Vegetables (V)
Stir fried with egg, onion, spring onion, carrots & bean sprouts.
Pad Thai is Thai style stir fried dish with king prawns, chicken, Char Siu & tomato sauce
£5.50
Rice Noodle Pad Thai
Stir fried with egg, onion, spring onion, carrots & bean sprouts.
Pad Thai is Thai style stir fried dish with king prawns, chicken, Char Siu & tomato sauce
£6.40
Rice Noodle Plain (V)
Stir fried with egg, onion, spring onion, carrots & bean sprouts.
Pad Thai is Thai style stir fried dish with king prawns, chicken, Char Siu & tomato sauce
£4.40
Rice Noodle Shrimp
Stir fried with egg, onion, spring onion, carrots & bean sprouts.
Pad Thai is Thai style stir fried dish with king prawns, chicken, Char Siu & tomato sauce
£5.80
Rice Noodle Singapore
Stir fried with egg, onion, spring onion, carrots & bean sprouts.
Pad Thai is Thai style stir fried dish with king prawns, chicken, Char Siu & tomato sauce
£6.10
Rice Noodle Yeung Chow
Stir fried with egg, onion, spring onion, carrots & bean sprouts.
Pad Thai is Thai style stir fried dish with king prawns, chicken, Char Siu & tomato sauce
£6.10
Thai Pattaya Bean Curd (V)
Thai style, stir fried garlic, onion, carrots, green peppers, mushrooms, bamboo shoots, coconut cream & sweet chilli sauce
£5.90
Thai Pattaya Beef
Thai style, stir fried garlic, onion, carrots, green peppers, mushrooms, bamboo shoots, coconut cream & sweet chilli sauce
£6.40
Thai Pattaya Char Siu
Thai style, stir fried garlic, onion, carrots, green peppers, mushrooms, bamboo shoots, coconut cream & sweet chilli sauce
£6.40
Thai Pattaya Chicken
Thai style, stir fried garlic, onion, carrots, green peppers, mushrooms, bamboo shoots, coconut cream & sweet chilli sauce
£6.40
Thai Pattaya Duck
Thai style, stir fried garlic, onion, carrots, green peppers, mushrooms, bamboo shoots, coconut cream & sweet chilli sauce
£6.80
Thai Pattaya King Prawn
Thai style, stir fried garlic, onion, carrots, green peppers, mushrooms, bamboo shoots, coconut cream & sweet chilli sauce
£6.60
Thai Pattaya Mixed Vegetables (V)
Thai style, stir fried garlic, onion, carrots, green peppers, mushrooms, bamboo shoots, coconut cream & sweet chilli sauce
£5.80
Thai Pattaya Shrimp
Thai style, stir fried garlic, onion, carrots, green peppers, mushrooms, bamboo shoots, coconut cream & sweet chilli sauce
£6.40
Thai Pattaya Special
Thai style, stir fried garlic, onion, carrots, green peppers, mushrooms, bamboo shoots, coconut cream & sweet chilli sauce
£6.60
Thai Pattaya Squid
Thai style, stir fried garlic, onion, carrots, green peppers, mushrooms, bamboo shoots, coconut cream & sweet chilli sauce
£6.70
Pineapple Fritters with Syrup
£2.70
Banana Fritters with Syrup
£2.70
Apple Fritters with Syrup
£2.70
Crab Meat & Sweetcorn Soup
£2.70
Set Meal A For 1 Person
Spring roll
Beef with black bean sauce (hot)
Egg fried rice
Prawn crackers
£13.00
Set Meal B For 2 Persons
Sesame prawn on toast
Beef with mushrooms
Sweet & sour pork Hong Kong style
Yeung chow fried rice
Yeung chow chow mein
£24.00
Set Meal C For 2 Persons
Barbecued spare ribs (Peking style)
King prawns with satay sauce
Deep fried chicken in batter balls
Beef with black bean sauce (hot)
Yeung chow fried rice
Yeung chow chow mein
£32.00
Set Meal D For 2 Persons
Crispy aromatic duck
King prawns in Szechuan sauce (hot)
Chicken with mixed vegetables
Beef in Cantonese sauce
Sweet & sour pork (in batter)
Yeung chow fried rice
£33.00
Set Meal E For 2 Persons
Crispy aromatic duck
Crispy seaweed
Popia Tod (Thai spring roll)
Barbecued spare ribs in OK sauce
Squid with satay sauce
Chicken with ginger & spring onions
Crispy shredded chilli beef (hot)
Yeung chow fried rice
£45.00
Sirloin Steak
With peas, onion, mushrooms, gravy & chips
£8.80
Roast Chicken
With peas, onion, mushrooms, gravy & chips
£5.60
Sausages, Peas, Chips & Sauce Curry
£5.00
Sausages, Peas, Chips & Sauce Gravy
£5.00
Sausages, Peas, Chips & Sauce Sweet & Sour
£5.00
Chicken Maryland
Deep fried chicken breast in breadcrumbs, pineapple fritters, peas sausages (2) & chips
£6.80
Chips in Sauce Sweet & Sour
£3.80
Chips with Char Siu & Sauce Curry
£5.00
Chips with Char Siu & Sauce Gravy
£5.00
Chips with Char Siu & Sauce Sweet & Sour
£5.00
Chips with Chicken & Sauce Curry
£5.00
Chips with Chicken & Sauce Gravy
£5.00
Chips with Chicken & Sauce Sweet & Sour
£5.00
Chips, Fried Rice & Sauce Curry
£4.20
Chips, Fried Rice & Sauce Gravy
£4.20
Chips, Fried Rice & Sauce Sweet & Sour
£4.20
Chop Suey Bean Curd (V)
Mixed vegetables - stir fried with garlic, carrots, onions, spring onions, bean sprouts, bamboo shoots & water chestnuts
£5.90
Chop Suey Beef
Mixed vegetables - stir fried with garlic, carrots, onions, spring onions, bean sprouts, bamboo shoots & water chestnuts
£6.30
Chop Suey Char Siu
Mixed vegetables - stir fried with garlic, carrots, onions, spring onions, bean sprouts, bamboo shoots & water chestnuts
£6.30
Chop Suey Chicken
Mixed vegetables - stir fried with garlic, carrots, onions, spring onions, bean sprouts, bamboo shoots & water chestnuts
£6.30
Chop Suey Duck
Mixed vegetables - stir fried with garlic, carrots, onions, spring onions, bean sprouts, bamboo shoots & water chestnuts
£6.80
Chop Suey King Prawn
Mixed vegetables - stir fried with garlic, carrots, onions, spring onions, bean sprouts, bamboo shoots & water chestnuts
£6.50
Chop Suey Mushrooms (V)
Mixed vegetables - stir fried with garlic, carrots, onions, spring onions, bean sprouts, bamboo shoots & water chestnuts
£5.80
Chop Suey Special
Mixed vegetables - stir fried with garlic, carrots, onions, spring onions, bean sprouts, bamboo shoots & water chestnuts
£6.50
Bamboo Shoots & Water Chestnuts
£3.30
Plain Chow Mein
Thick noodles with onion & bean sprouts
£3.40
Black Bean Sauce Chow Mein Beef
£6.10
Black Bean Sauce Chow Mein Char Siu
£6.10
Black Bean Sauce Chow Mein Chicken
£6.10
Black Bean Sauce Chow Mein Duck
£6.60
Black Bean Sauce Chow Mein King Prawn
£6.40
Black Bean Sauce Chow Mein Mixed Vegetables
£5.80
Black Bean Sauce Chow Mein Seafood
£6.60
Black Bean Sauce Chow Mein Special
£6.40
Chow Mein Beef
Soft noodles. Jade Garden Special is stir fried with king prawns, chicken, beef, Char Siu & mixed vegetables & comes with sauce
£5.80
Chow Mein Char Siu
Soft noodles. Jade Garden Special is stir fried with king prawns, chicken, beef, Char Siu & mixed vegetables & comes with sauce
£5.80
Chow Mein Chicken
Soft noodles. Jade Garden Special is stir fried with king prawns, chicken, beef, Char Siu & mixed vegetables & comes with sauce
£5.80
Chow Mein Chicken & Char Siu
Soft noodles. Jade Garden Special is stir fried with king prawns, chicken, beef, Char Siu & mixed vegetables & comes with sauce
£5.80
Chow Mein Duck
Soft noodles. Jade Garden Special is stir fried with king prawns, chicken, beef, Char Siu & mixed vegetables & comes with sauce
£6.60
Chow Mein Jade Garden Special
Soft noodles. Jade Garden Special is stir fried with king prawns, chicken, beef, Char Siu & mixed vegetables & comes with sauce
£6.30
Chow Mein King Prawn
Soft noodles. Jade Garden Special is stir fried with king prawns, chicken, beef, Char Siu & mixed vegetables & comes with sauce
£6.30
Chow Mein Mixed Vegetables (V)
Soft noodles. Jade Garden Special is stir fried with king prawns, chicken, beef, Char Siu & mixed vegetables & comes with sauce
£5.50
Chow Mein Mushrooms (V)
Soft noodles. Jade Garden Special is stir fried with king prawns, chicken, beef, Char Siu & mixed vegetables & comes with sauce
£5.50
Chow Mein Seafood
Soft noodles. Jade Garden Special is stir fried with king prawns, chicken, beef, Char Siu & mixed vegetables & comes with sauce
£6.80
Chow Mein Shrimp
Soft noodles. Jade Garden Special is stir fried with king prawns, chicken, beef, Char Siu & mixed vegetables & comes with sauce
£5.80
Chow Mein Singapore
Soft noodles. Jade Garden Special is stir fried with king prawns, chicken, beef, Char Siu & mixed vegetables & comes with sauce
£6.10
Chow Mein Yeung Chow
Soft noodles. Jade Garden Special is stir fried with king prawns, chicken, beef, Char Siu & mixed vegetables & comes with sauce
£6.10
Garlic & Onion King Prawn
£6.50
Fried Rice Beef
Jade Garden Special is stir fried with king prawns, chicken, beef, Char Siu & mixed vegetables & comes with sauce
£5.80
Fried Rice Char Siu
Jade Garden Special is stir fried with king prawns, chicken, beef, Char Siu & mixed vegetables & comes with sauce
£5.80
Fried Rice Chicken
Jade Garden Special is stir fried with king prawns, chicken, beef, Char Siu & mixed vegetables & comes with sauce
£5.80
Fried Rice Duck
Jade Garden Special is stir fried with king prawns, chicken, beef, Char Siu & mixed vegetables & comes with sauce
£6.60
Fried Rice Jade Garden Special
Jade Garden Special is stir fried with king prawns, chicken, beef, Char Siu & mixed vegetables & comes with sauce
£6.30
Fried Rice King Prawn
Jade Garden Special is stir fried with king prawns, chicken, beef, Char Siu & mixed vegetables & comes with sauce
£6.30
Fried Rice Mixed Vegetables (V)
Jade Garden Special is stir fried with king prawns, chicken, beef, Char Siu & mixed vegetables & comes with sauce
£5.50
Fried Rice Mushrooms (V)
Jade Garden Special is stir fried with king prawns, chicken, beef, Char Siu & mixed vegetables & comes with sauce
£5.50
Fried Rice Pineapple
Jade Garden Special is stir fried with king prawns, chicken, beef, Char Siu & mixed vegetables & comes with sauce
£5.40
Fried Rice Seafood
Jade Garden Special is stir fried with king prawns, chicken, beef, Char Siu & mixed vegetables & comes with sauce
£6.80
Fried Rice Shrimp
Jade Garden Special is stir fried with king prawns, chicken, beef, Char Siu & mixed vegetables & comes with sauce
£5.80
Fried Rice Singapore
Jade Garden Special is stir fried with king prawns, chicken, beef, Char Siu & mixed vegetables & comes with sauce
£6.10
Fried Rice Yeung Chow
Jade Garden Special is stir fried with king prawns, chicken, beef, Char Siu & mixed vegetables & comes with sauce
£6.10
Chilli & Garlic Beef
Stir fried with onion, carrots, bamboo shoots, green pepper, baby corn, green chilli & garlic
£6.30
Chilli & Garlic Char Siu
Stir fried with onion, carrots, bamboo shoots, green pepper, baby corn, green chilli & garlic
£6.30
Chilli & Garlic Chicken
Stir fried with onion, carrots, bamboo shoots, green pepper, baby corn, green chilli & garlic
£6.30
Chilli & Garlic Duck
Stir fried with onion, carrots, bamboo shoots, green pepper, baby corn, green chilli & garlic
£6.80
Chilli & Garlic King Prawn
Stir fried with onion, carrots, bamboo shoots, green pepper, baby corn, green chilli & garlic
£6.50
Chilli & Garlic Scallops
Stir fried with onion, carrots, bamboo shoots, green pepper, baby corn, green chilli & garlic
£7.00
Chilli & Garlic Shrimp
Stir fried with onion, carrots, bamboo shoots, green pepper, baby corn, green chilli & garlic
£6.30
Chilli & Garlic Special
Stir fried with onion, carrots, bamboo shoots, green pepper, baby corn, green chilli & garlic
£6.50
Chilli & Garlic Squid
Stir fried with onion, carrots, bamboo shoots, green pepper, baby corn, green chilli & garlic
£6.70
Ginger & Spring Onion Bean Curd (V)
Stir fried with garlic, onion, ginger, spring onion & oyster sauce
£5.90
Ginger & Spring Onion Beef
Stir fried with garlic, onion, ginger, spring onion & oyster sauce
£6.30
Ginger & Spring Onion Char Siu
Stir fried with garlic, onion, ginger, spring onion & oyster sauce
£6.30
Ginger & Spring Onion Chicken
Stir fried with garlic, onion, ginger, spring onion & oyster sauce
£6.30
Ginger & Spring Onion Duck
Stir fried with garlic, onion, ginger, spring onion & oyster sauce
£6.80
Ginger & Spring Onion King Prawn
Stir fried with garlic, onion, ginger, spring onion & oyster sauce
£6.50
Ginger & Spring Onion Scallops
Stir fried with garlic, onion, ginger, spring onion & oyster sauce
£7.00
Ginger & Spring Onion Special
Stir fried with garlic, onion, ginger, spring onion & oyster sauce
£6.50
Ginger & Spring Onion Squid
Stir fried with garlic, onion, ginger, spring onion & oyster sauce
£6.70
Oyster Sauce Beef
Stir fried with garlic, onion, bamboo shoots, baby corn, straw mushrooms & oyster sauce
£6.30
Oyster Sauce Char Siu
Stir fried with garlic, onion, bamboo shoots, baby corn, straw mushrooms & oyster sauce
£6.30
Oyster Sauce Chicken
Stir fried with garlic, onion, bamboo shoots, baby corn, straw mushrooms & oyster sauce
£6.30
Oyster Sauce Duck
Stir fried with garlic, onion, bamboo shoots, baby corn, straw mushrooms & oyster sauce
£6.80
Oyster Sauce King Prawn
Stir fried with garlic, onion, bamboo shoots, baby corn, straw mushrooms & oyster sauce
£6.50
Oyster Sauce Mixed Vegetables (V)
Stir fried with garlic, onion, bamboo shoots, baby corn, straw mushrooms & oyster sauce
£5.80
Oyster Sauce Scallops
Stir fried with garlic, onion, bamboo shoots, baby corn, straw mushrooms & oyster sauce
£7.00
Oyster Sauce Special
Stir fried with garlic, onion, bamboo shoots, baby corn, straw mushrooms & oyster sauce
£6.50
Oyster Sauce Squid
Stir fried with garlic, onion, bamboo shoots, baby corn, straw mushrooms & oyster sauce
£6.70
Satay Bean Curd (V)
Stir fried with onion, carrots, green pepper, pineapple, bamboo shoots & satay sauce
£5.90
Satay Beef
Stir fried with onion, carrots, green pepper, pineapple, bamboo shoots & satay sauce
£6.30
Satay Char Siu
Stir fried with onion, carrots, green pepper, pineapple, bamboo shoots & satay sauce
£6.30
Satay Chicken
Stir fried with onion, carrots, green pepper, pineapple, bamboo shoots & satay sauce
£6.30
Satay Duck
Stir fried with onion, carrots, green pepper, pineapple, bamboo shoots & satay sauce
£6.80
Satay King Prawn
Stir fried with onion, carrots, green pepper, pineapple, bamboo shoots & satay sauce
£6.50
Satay Mixed Vegetables (V)
Stir fried with onion, carrots, green pepper, pineapple, bamboo shoots & satay sauce
£5.80
Satay Shrimp
Stir fried with onion, carrots, green pepper, pineapple, bamboo shoots & satay sauce
£6.30
Satay Special
Stir fried with onion, carrots, green pepper, pineapple, bamboo shoots & satay sauce
£6.50
Satay Squid
Stir fried with onion, carrots, green pepper, pineapple, bamboo shoots & satay sauce
£6.70
Sweet & Sour Hong Kong Style Bean Curd (V)
Stir fried with onion, carrots, green pepper, pineapple, sweet & sour sauce
£5.90
Sweet & Sour Hong Kong Style Beef
Stir fried with onion, carrots, green pepper, pineapple, sweet & sour sauce
£6.30
Sweet & Sour Hong Kong Style Chicken
Stir fried with onion, carrots, green pepper, pineapple, sweet & sour sauce
£6.30
Sweet & Sour Hong Kong Style Duck
Stir fried with onion, carrots, green pepper, pineapple, sweet & sour sauce
£6.80
Sweet & Sour Hong Kong Style King Prawn
Stir fried with onion, carrots, green pepper, pineapple, sweet & sour sauce
£6.50
Sweet & Sour Hong Kong Style Mixed Vegetables (V)
Stir fried with onion, carrots, green pepper, pineapple, sweet & sour sauce
£5.80
Sweet & Sour Hong Kong Style Pork
Stir fried with onion, carrots, green pepper, pineapple, sweet & sour sauce
£6.30
Sweet & Sour Hong Kong Style Special
Stir fried with onion, carrots, green pepper, pineapple, sweet & sour sauce
£6.50
Foo Yung Mixed Vegetables (V)
£5.80
Deep Fried O.K. Sauce Beef
Deep fried with green pepper, onion, carrots, baby corn & O.K. sauce
£6.30
Deep Fried O.K. Sauce Char Siu
Deep fried with green pepper, onion, carrots, baby corn & O.K. sauce
£6.30
Deep Fried O.K. Sauce Chicken
Deep fried with green pepper, onion, carrots, baby corn & O.K. sauce
£6.30
Deep Fried O.K. Sauce King Prawn
Deep fried with green pepper, onion, carrots, baby corn & O.K. sauce
£6.50
Deep Fried O.K. Sauce Scallops
Deep fried with green pepper, onion, carrots, baby corn & O.K. sauce
£7.00
Deep Fried O.K. Sauce Shrimp
Deep fried with green pepper, onion, carrots, baby corn & O.K. sauce
£6.30
Deep Fried O.K. Sauce Special
Deep fried with green pepper, onion, carrots, baby corn & O.K. sauce
£6.50
Deep Fried O.K. Sauce Squid
Deep fried with green pepper, onion, carrots, baby corn & O.K. sauce
£6.70
Stir Fried O.K. Sauce Beef
Stir fried with green pepper, onion, carrots, baby corn & O.K. sauce
£6.30
Stir Fried O.K. Sauce Char Siu
Stir fried with green pepper, onion, carrots, baby corn & O.K. sauce
£6.30
Stir Fried O.K. Sauce Chicken
Stir fried with green pepper, onion, carrots, baby corn & O.K. sauce
£6.30
Stir Fried O.K. Sauce King Prawn
Stir fried with green pepper, onion, carrots, baby corn & O.K. sauce
£6.50
Stir Fried O.K. Sauce Scallops
Stir fried with green pepper, onion, carrots, baby corn & O.K. sauce
£7.00
Stir Fried O.K. Sauce Shrimp
Stir fried with green pepper, onion, carrots, baby corn & O.K. sauce
£6.30
Stir Fried O.K. Sauce Special
Stir fried with green pepper, onion, carrots, baby corn & O.K. sauce
£6.50
Stir Fried O.K. Sauce Squid
Stir fried with green pepper, onion, carrots, baby corn & O.K. sauce
£6.70
Stir Fried Sour & Chilli Bean Curd (V)
Stir fried with onion, carrots, water chestnuts, green pepper & sour chilli sauce
£5.90
Stir Fried Sour & Chilli Beef
Stir fried with onion, carrots, water chestnuts, green pepper & sour chilli sauce
£6.30
Stir Fried Sour & Chilli Char Siu
Stir fried with onion, carrots, water chestnuts, green pepper & sour chilli sauce
£6.30
Stir Fried Sour & Chilli Chicken
Stir fried with onion, carrots, water chestnuts, green pepper & sour chilli sauce
£6.30
Stir Fried Sour & Chilli Duck
Stir fried with onion, carrots, water chestnuts, green pepper & sour chilli sauce
£6.80
Stir Fried Sour & Chilli King Prawn
Stir fried with onion, carrots, water chestnuts, green pepper & sour chilli sauce
£6.50
Stir Fried Sour & Chilli Special
Stir fried with onion, carrots, water chestnuts, green pepper & sour chilli sauce
£6.50
Deep Fried Sour & Chilli Bean Curd (V)
Deep fried with onion, carrots, water chestnuts, green pepper & sour chilli sauce
£5.90
Deep Fried Sour & Chilli Beef
Deep fried with onion, carrots, water chestnuts, green pepper & sour chilli sauce
£6.30
Deep Fried Sour & Chilli Char Siu
Deep fried with onion, carrots, water chestnuts, green pepper & sour chilli sauce
£6.30
Deep Fried Sour & Chilli Chicken
Deep fried with onion, carrots, water chestnuts, green pepper & sour chilli sauce
£6.30
Deep Fried Sour & Chilli Duck
Deep fried with onion, carrots, water chestnuts, green pepper & sour chilli sauce
£6.80
Deep Fried Sour & Chilli King Prawn
Deep fried with onion, carrots, water chestnuts, green pepper & sour chilli sauce
£6.50
Deep Fried Sour & Chilli Special
Deep fried with onion, carrots, water chestnuts, green pepper & sour chilli sauce
£6.50
Curry Char Siu & Mushrooms
£6.40
Curry Chicken & Mushrooms
£6.50
Curry King Prawn & Mushrooms
£6.50
Curry Mixed Vegetables (V)
£5.80
Contact Us
Find Us
129 East Parade, Keighley, BD215HX
We deliver to
BD16, BD20, BD21, BD22